The studio 247 is one of the established jazz music venues in Bishkek. It also hosts other life stage events like comedy nights or other forms of life music.
The studio 247 art club is centrally located on Erkindik, one the central park lanes of Bishkek. The slogan of the club is 'Panem Et Cirenses', which is probably a misspelling of 'Panem Et Circenses', which is latin for 'Bread and Circus (games)'. Transferred this means 'Bread and Entertainment' and fits the concept of the art club since it provides music entertainment, or sometimes comedy entertainment and serves food and drinks.
You can follow their event photos on Facebook and Instagram.
Upcoming Events at Studio 247 Bishkek
No events in this location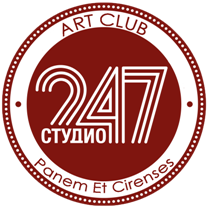 The studio 247 is one of the established jazz music venues in Bishkek. It also hosts other life stage events like comedy nights or other forms of life music. The studio 247 art club is centrally located on Erkindik, one the central park lanes of Bishkek. The slogan of the club is 'Panem Et Cirenses', [...]
Address of the venue
Studio 247 Bishkek
Studio 247
37 Erkindik Ave
Bishkek
, ,
Kyrgyzstan
Geo-Coordinates of the venue Studio 247 Bishkek