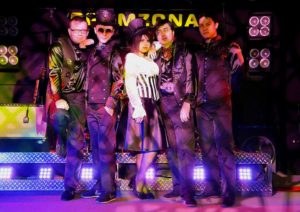 The
Busker Party Band
is another great cover bands of Kyrgystan. They are one of Promzona's house bands and usually play on Wednesday and Friday. Promzona has posted some live videos on their
facebook page
. Check them out.
Upcoming Performances of the
Busker Party Band

:
| Event | Date/Time |
| --- | --- |
the best live music club

Вот это ночка была! 😍🔥 Феерично провожали старый год вместе с вами и Busker 😃 Жгли до четырёх утра!❤️Сегодня встречаемся вместе с KAIROS!🔥Не забываем про фотоконкурс и подарки! 😉🎊"хотим в гости" - ещё в силе. #bestclub #безпафоса #лучшеевбишкеке #promzona_club #promzonaclub #промзонаклуб✨❤️ #промзонабишкек

Опубликовано PROMZONA Club Суббота, 30 декабря 2017 г.