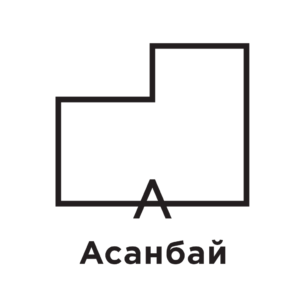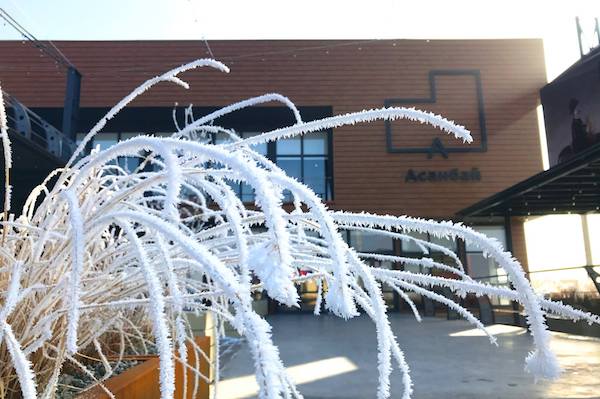 Asanbai Center is a flexible and event venue with clear and functional design. It is the heart of the new Asanbai cultural district, next to the Asanbai entertainment park.
The purpose of the 1700㎡ large Asanbay center is to be cultural catalyst for contemporary art events and to enrich people's life through art, education, entertainment.
In that spirit Asanbay center is another independent art venue like ololohaus Art Studio and LOFT Tseh further advancing the contemporary art scene of Bishkek.
The Asanbay Center Logo
The Asanbay Center uses its architectural plan as a logo.A circumflex marks the entrance to the building. Together with the line of the front wall it forms the first letter of the venues name: "A" as in Asanbay.
Directly below the name of the region in center is displayed in Russian Асанбай.
The logo is simple and clean and directly communicates the content of the art space and the shape of its premises. The empty space signals flexibility – the events and exhibitions need to fill this void.
The Logo of the Asanbaj center (ru: Асанбай Центр) repeats the plan of the premises. It was designed by Marcel Sheishenov. It is sleek in shape, rich in content. The abstract associates an empty space like a Canvas. A canvas for art events.
Contact the Asanbay Center
E-Mail: asanbayart@gmail.com
Website: asanbay.org
Instagram: Асанбай Центр
Phone: +996 (775) 979 500
Address: A.Tokombaeva 21/4 (ru: А.Токомбаева 21/4), Bishkek
Georgian Restaurant Niko
When it comes to catering food and drinks to the guest of Asanbay art center, the creators of the cultural venue also tried a bold new concept. The second floor hosts a Georgian-cuisine restaurant, named Niko. Without any walls, directly open to the event space of the art center, the Georgian restaurnt is located on the open balcony of the second floor of the Asanbay Center.
While this takes some getting used to, it gives the restaurant an interesting ambiance on days outside of events and makes sure the open space is never really unused. However it probably does not make Niko suited for fine dining. But as a place to casually enjoy authentic Georgian food in an artisan ambiance, Niko Restaurant at Asanbay art center is you place to go.
Asanbai Art Center Links