Asia Mall Bishkek opened on Aug 31, 2017 with so much interest of the local population that the traffic around the shopping mall completely collapsed. The shopping center management had soon sorted this out, but this was a clear sign that something was missing in this part of Bishkek and the Asia Mall would soon be become a community center for this neighborhood of Bishkek.
Asia Mall until now is the most modern and largest shopping center in Bishkek. It also provide a vast amount of entertainment space, starting with a large cinema, a VR gaming center and a large child play center.
The third floor of the Asia Mall, near to the food court, also provides space for themed exhibitions and other special events. So this is where a small stage if usually placed.
Additionally the whole space before the center is designed to function as an open-air venue, providing a stage and other facilities when needed.
Inside the Asia Mall Bishkek spacious shops offer a wide range of goods. The shopping center complex hosts the largest food court in the country. It offers various quick service restaurant concepts as well as more upscale system gastronomy restaurants.
Cinema inside the Asia Mall
The cinema complex "Broadway" offers seven large and modern 3D screening rooms. The cinema is open until midnight, even when the shops are already closed. The screening rooms are equipped with modern equipment.
Currently the broadway cinema is only featuring localized movies, so they are not featured on bubble.kg. To view their program check out their website.
The Broadway cinema complex can be found on the third floor next to the food court. It's own popcorn and coffee selling counter is hard to miss. The Broadway cinema operates independently and such offers an alternative to the many Cinematica Cinemas.
Children's play zone JUNGLE Play
Children's JUNGLE Play entertainment area is a fascinating amusement zone for your kids. It is bright and diverse in the game it offers. In construction if was made sure, that international standards of quality and safety were met.
The territory of this children's play zone is 3000 sq. m. and if offers playground activities for children of different ages.
The Rift VR Park is an unique 3-D simulation amusement park. It provides 3-d game simulators with virtual reality effects.
The regular opening hours of Asia Mall in Bishkek is every day from 10:00 h to 22:00 h. The cinema and food court are open until midnight.
Asia Mall is the first shopping and recreation center of international standard in Kyrgyzstan. It has started its activity on 31 August 2017, which was also the Independence Day of the Kyrygz Republic – an important holiday in Kyrgyzstan, where families go out and have a good time in their city. The Asia Mall Bishkek has already become a favorite place to visit for citizens and guests of the capital. Asia Mall on one of the main avenues in Bishkek and the infrastructure specially extended for the Asia Mall provides a steady traffic flow and enough parking space.
The Asia Mall building area is 73 000 square meters.
Asia Mall's Architecture
The Asia Mall Bishkek was designed by Mario Bartylla's company MB Architects. MB Architects is an internationally experienced architecture and design company based in Paris. The company which designed Asia Mall is led by Mario Bartylla and Zurab Zaalishvili. The speciality of MB Architects is the design of commercial space, which is more then just a collection of outlets. The MB Architects planed many shopping centers before Asia Mall, street malls and retail parks. They try to create flexible mix-use locations that become a destination in their city, just as Asia Mall instantly became a center of the University quarter in the area of Prospekt Mira and Gagarin Street.
Everything in their design, starting with the public space before the Asia Mall Shopping Center, encourages people to spend time at the Asia Mall Center. The Asia Mall Project in Bishkek was undertaken after a lot of experience across Europe, Russia and North Africa with similar shopping mall projects. The architects working on Asia Mall had over 30 years' expertise and were able to provide full architectural design services. This started with the concept design stage.
Asia Mall's Fassade and Light Design
In 2016 the Company VDS faced difficult task when they got briefed with the expectation of the Asia Mall project team. The Asia mall's architects had planned to build a world-class shopping center in Bishkek.
The Asia mall did not just want to become another huge shopping mall. The Asia Mall should become a landmark and a sight of the Kyrgyz capital Bishkek.
This was emphasized by Oskon Osmolov, doctor of historical sciences, anthropologist, professor during the designing cycle. One of the projects tasks was to create a touristic platform for Bishkek and a community center for the neighborhood.
Objective of the Asia Mall project was to develop:
an original architectural character inspired by the national heritages
take into account the historical-cultural origins of Kirghiz people
create a new international format mall, to attract some global brands to Kyrgyzstan, for which there was no suitable platform.
reflect the idea of an environmental paradise of the mountain nomads
use modern high-tech with national color
Specialists of VDS design-center, were able to find a suitable image, with help of jointly defined formulations and selected analogues. A verbal description of the "steppe yurt" project: the outside cold is a warm light inside; warm fireplace light. Modern technology of architectural panels hinge, that allows smoothly repeat bends, images of mountain peaks in the facade outline, national ornament as a dеcor – is what allocates Asia Mall among other similar objects.
Design and construction of the Asia Mall in Kyrgyzstan took less than a year. The Mall building turned out to be not only modern, but also original. Along with modern technologies and materials there is a spirit and history of the Kyrgyz people. The new shopping center became an attraction object for residents and guests of Bishkek immediately.
Upcoming Events at Asia Mall Shopping Center Bishkek
No events in this location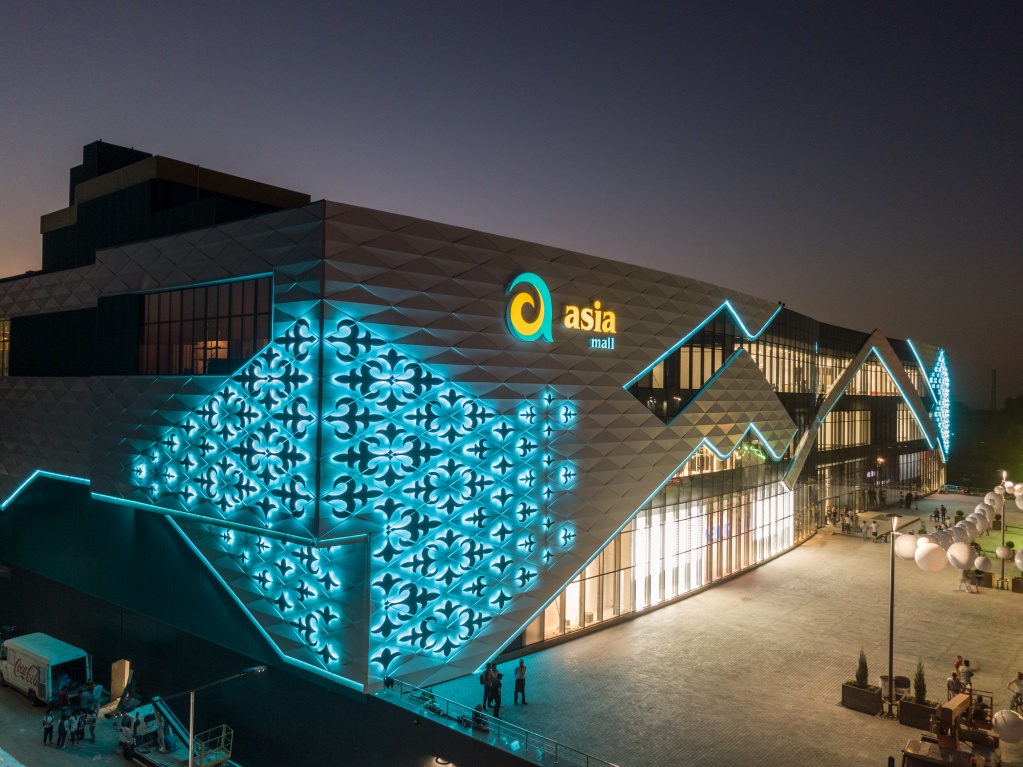 Asia Mall is the first shopping and recreation center of international standard in Kyrgyzstan. It has started its activity on 31 August 2017, which was also the Independence Day of the Kyrygz Republic – an important holiday in Kyrgyzstan, where families go out and have a good time in their city. The Asia Mall Bishkek [...]
Address of the venue
Asia Mall Shopping Center Bishkek
Asia Mall Shopping Center
3 Ch. Aitmatov ave.
Bishkek
, ,
Kyrgyzstan
Geo-Coordinates of the venue Asia Mall Shopping Center Bishkek