If an event is designated to happen in the Tunguch Theater, the entrance to the venue will be found on Turusbekova Street, south of Chui Street.
The Tunguch Concert Hall is located in the same building as Metro Pub. In fact the locations are internally connected and when not used the Tunguch Hall becomes a 2nd dance floor for the Metro Club on weekends. The Concert Hall has its own entrance on Turusbekova Street. Usually Turusbekova provides sufficient street parking right in front of the Tunguch entrance.
History of Tunguch Concert Hall
The Tunguch Concert Hall (ru: Концертный зал Тунгуч) has been well known for the longest time under the name Children's Puppet Theater (ru: Детский кукольный театр). However in recent years that classical stage has been underused and undervalued, until ca. 2017 the place was relaunched with the new branding we know today: "Tunguch Concert Hall".
The Tunguch theater is homed in the same large building complex, which also hosts the Metro Pub and the National Bank of the Kyrgyz Republic. The dedicated Tunguch entrance if facing west towards Turusbekova Street. The Metro Pub entrance is facing south towards Chui Street and the National Bank entrance is facing east towards the city hall of Biskek.
The Tunguch Concert Hall is a multi purpose venue facility for staged event, performances or conferences. Traditionally called the puppet theater, it now houses all kind of events, from classical concerts, over stage performances to profession presentations and company event. This facility is flexible, provides a nice classical ambience. The Tunguch complex is linked to a professional restaurant and bar operator, enabling it to cater various events with appropriate drinks and food.
Upcoming Events at Tunguch Concert Hall Bishkek
No events in this location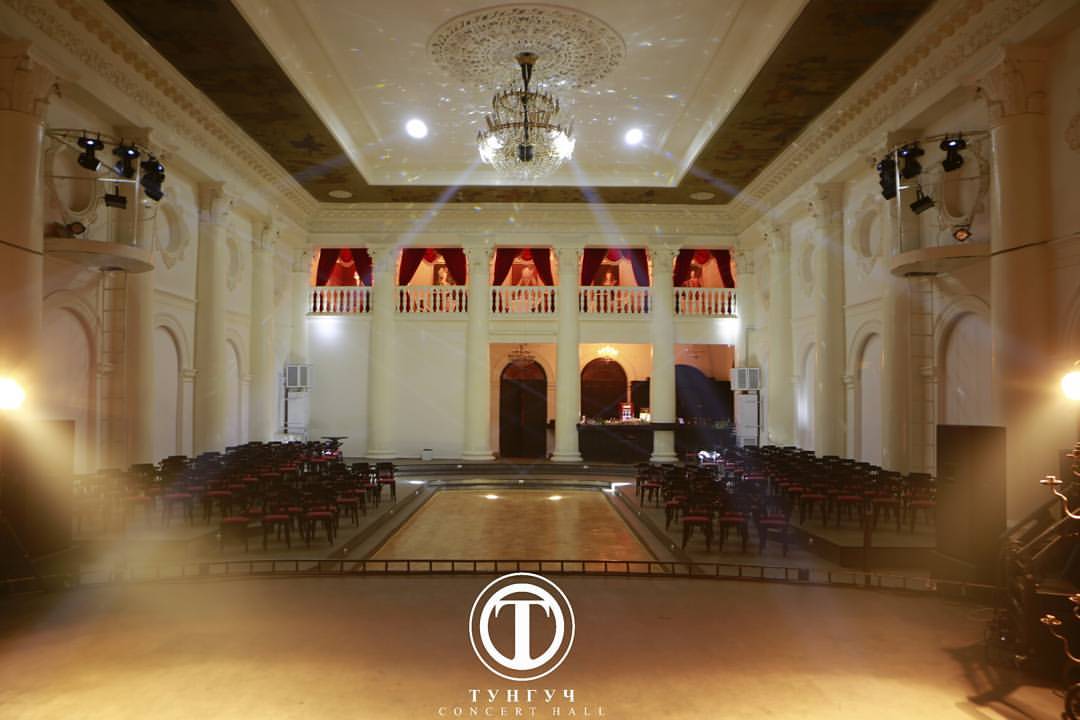 The Tunguch Concert Hall is a multi purpose venue facility for staged event or conferences. Traditionally called the puppet theater, it now houses all kind of events, from classical concerts, over standup events to profession presentations and company event. This facitility is flexible, provides a nice classical ambience. The Tunguch complex is linked to a [...]
Address of the venue
Tunguch Concert Hall Bishkek
Tunguch Concert Hall
Chui Ave., 168a
Bishkek
, ,
Kyrgyzstan
Geo-Coordinates of the venue Tunguch Concert Hall Bishkek