The University of Central Asia is an innovative university concept, with one university having three campuses.
This location entry is about the University of Central Asia – or UCA for short – campus in Naryn in the Kyrgyz Republic. The UCA Naryn Capus is the first campus of the university and located close to the Naryn River, deep in the Tian Shan Mountains. Connected to it is a Town Campus learning center for UCA's School of Professional and Continuing Education (SPCE). It is located in the center of Naryn, while the UCA Naryn Campus is on the outer west side of Naryn also has a Town Campus learning centre in Naryn.
History of the UCA Naryn Campus
This UCA Campus launched with the winter semester 2016. The Campus focuses on integrated Sciences, Computer Science and Communications and Media.
The current construction phase (as of 2018) is 13,927m² large and has a capacity of 150 students. The UCA Naryn Campus features a library and laboratories and of course state of the art classrooms. The campus houses dormitories for students, faculty and staff residences. Of course sport facilities are not missing.
The UCA will be able to accommodate 1,200 students when all construction phases are finished. The whole campus will then span 125,000m².
About the University of Central Asia
The University of Central Asia (UCA) was founded in 2000 and is a cooperation of private entities and the countries hosting all three campuses: Kyrgyz Republic, Tajikistan, and Kazakhstan.
The concept of UCA was to have a direct positive impact on the economic situation of the mountain communities next to its campuses, by bringing purchasing power to these areas and offering better education options to the local citizens.
UCA includes these facilites:
the Undergraduate School of Arts and Sciences
the Graduate School of Development
the School of Professional and Continuing Education
the Institute of Public Policy and Administration
the Mountain Societies Research Institute
the Cultural Heritage and Humanities Unit
the Central Asian Faculty Development Programme
the Aga Khan Humanities Project
Contact phone: + 996 (3522) 57 820
Video of the University of Central Asia Campus in Naryn
This is an image video of the University of Central Asia and the Aka Kahn Development Network (AKDN) and with images of the UCA Campus in Naryn. It also gives background information about the university.
The University of Central Asia on the Roof of the World
This image video gives an impression of the surroundings of the UCA campuses and describe the landscapes and regional surroundings.
Upcoming Events at UCA Naryn Campus Naryn
No events in this location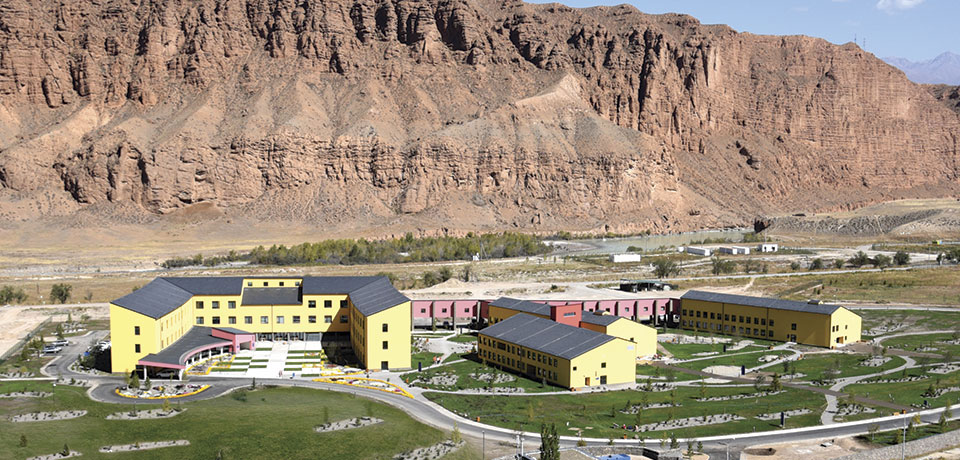 The University of Central Asia is an innovative university concept, with one university having three campuses. This location entry is about the University of Central Asia – or UCA for short – campus in Naryn in the Kyrgyz Republic. The UCA Naryn Capus is the first campus of the university and located close to the [...]
Address of the venue
UCA Naryn Campus Naryn
UCA Naryn Campus
310 Lenin Street
Naryn
, ,
Kyrgyzstan
Geo-Coordinates of the venue UCA Naryn Campus Naryn