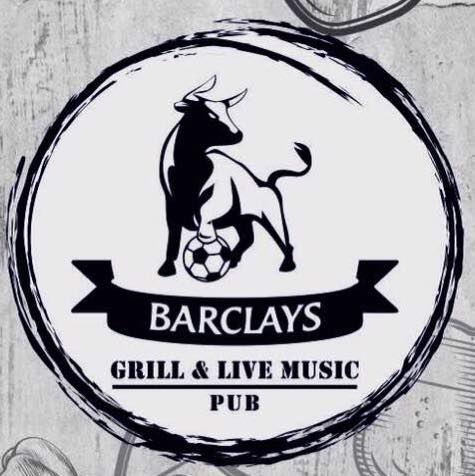 Barclay's Grill & Live Music Pub is located in the new entertainment center in the Asanbai area new the southern magistral.
The venue is designed to accommodate different kinds of events. So the ambience at Barclay's is not always the same. They mutate from live concert stage into dance club into steak restaurant into sports pub – depending on what's scheduled for tonight.
Their restaurant part is pretty upscale for a beer pub. They have a large selection of grilled meat and steaks dishes, including a large selection of marble steaks.
The location has a spacious hall and provides a big stage. They cooperate with Studio 247 and feature some of their regular artists.
Barclay's Grill can cater your event and offers a wide choice of banquet dishes.
Sometimes Barclay's Pub focuses on important live sports events. They will screen live broadcasts of sports events on a huge screen and 25 televisions, placed around the menu and also, if the weather permits, displays them on screens on their summer terrace.
How to find Barclay's Grill & Live Music Pub
If you are looking for a landmark, the Aaly Tokombaev St is the official name of the southern magistral (Russian: южный магистраль – yuzhnyy magistral'). If you drive eastbound, after the Asanbai Amusement Park, a local entertainment park there is a side road branching form the south highway. The large ferris wheel of the Asanbai Park is visible from far.
The actual address is ul. Tokombaeva, 21 A/4, corner. ul. Kuttubaev (ru: ул. Токомбаева, 21 А/4 стр, уг. ул. Куттубаева), but since the road was only build 2017 it is only available on Navigation systems with very up to date map material.
Update Note: Barclays Club Mederova
Note: Barclays Club Mederova Place has moved and completely relaunched in 2017. The old venue does not exist anymore. Internet-Listings about Barclays Pub in Mederova Street are outdated. So are reviews from before 2017. The Barclays Live Music Pub club has changed the menu, styling and concept significantly. What used to be mainly a sports bar is now a versatile venue for jazz concerts, rock concerts, dance music and other live music events. The cuisine and level of cooking has also changed from usual decent bar food to restaurant level.