The Hotel Hyatt-Regency Bishkek hosts many private events and conferences. Among its facilities are a the Crostini Restaurant, the Breeze, Opera Lounge and the Bar@191.
The Hyatt Regency Bishkek is a luxury 5 star hotel in Bishkek center for business or leisure.
The Hyatt Regency Bishkek was the first five star hotel in Bishkek and it is still the only 5-star international chain hotel in Bishkek, belonging to an international luxury brand.
The Hyatt Regency Hotel is located in the center Kyrgyz Republic's capital.
Location of the Hyatt Regency Bishkek
The Hyatt Hotel is conveniently located right in the cultural area of Bishkek including the Kyrgyz Opera and Ballet Theater and Museum of Fine Arts, which are both next door. The business and government district are next to the Hyatt Regency Hotel with many ministries and office headquarters in walking distance. Also close by is the Frunze Museum. Hyatt Regency Bishkek is a 35-minute drive away from the Bishkek Manas International airport.
Venue facilities of the Hyatt Hotel Bishkek
Hyatt Regency Bishkek is one of the best choices to hold your corporate meeting or exhibition. It also offers a great event venue for weddings and social events.
With 178 guest rooms and suites, this multi award winning Bishkek hotel offers their guests, luxury accommodation on Hyatt-Regency level and modern meeting facilities.
Additionally the Bar@191 and the elegant and Opera Lounge in the Hotel Lobby invite to stay.
Outside swimming pool and Breeze Restaurant
In the summer the pool terrace restaurant Breeze offers barbecued specialties. Breeze is open from May to October, if the weather permits. Hyatt Regency's open-air restaurant in Bishkek is serves a variety of barbecued dishes in the relaxed and informal surroundings of the pool and gardens. It is also available for private functions.
Crostini Restaurant
Crostini is the Mediterranean restaurant in Bishkek inside the Hyatt-Regency Bishkek Hotel. The Mediterranean Bishkek restaurant serves breakfast, lunch and dinner. The Crostini restaurant features an open show-kitchen and traditional wood-burning oven. The summer patio offers a light environment with a lot of natural daylight.
Opera Lounge of the Hyatt Regency
The Opera Lounge of the Hyatt Regency Bishkek is an elegant meeting place for business discussions or casual meet-ups. The Opera Lounge is open from early morning until midnight. After midnight you can always move to the Bar@191 to continue you conversation.
With its floor-to-ceiling windows looking towards the State Opera, the Opera Lounge at the Hyatt Regency Bishkek hotel is an elegant meeting place at the centre of the hotel, with a selection of light meals and refreshments on offer.
Contact Information for the Hyatt Regency Bishkek
Hyatt Regency Website: https://www.facebook.com/hyattregencybishkek/
Contact Phone: +996 312 66 12 34
Restaurant E-Mail: Crostini Restaurant Bishkek
Upcoming Events at Hyatt-Regency Bishkek Bishkek
No events in this location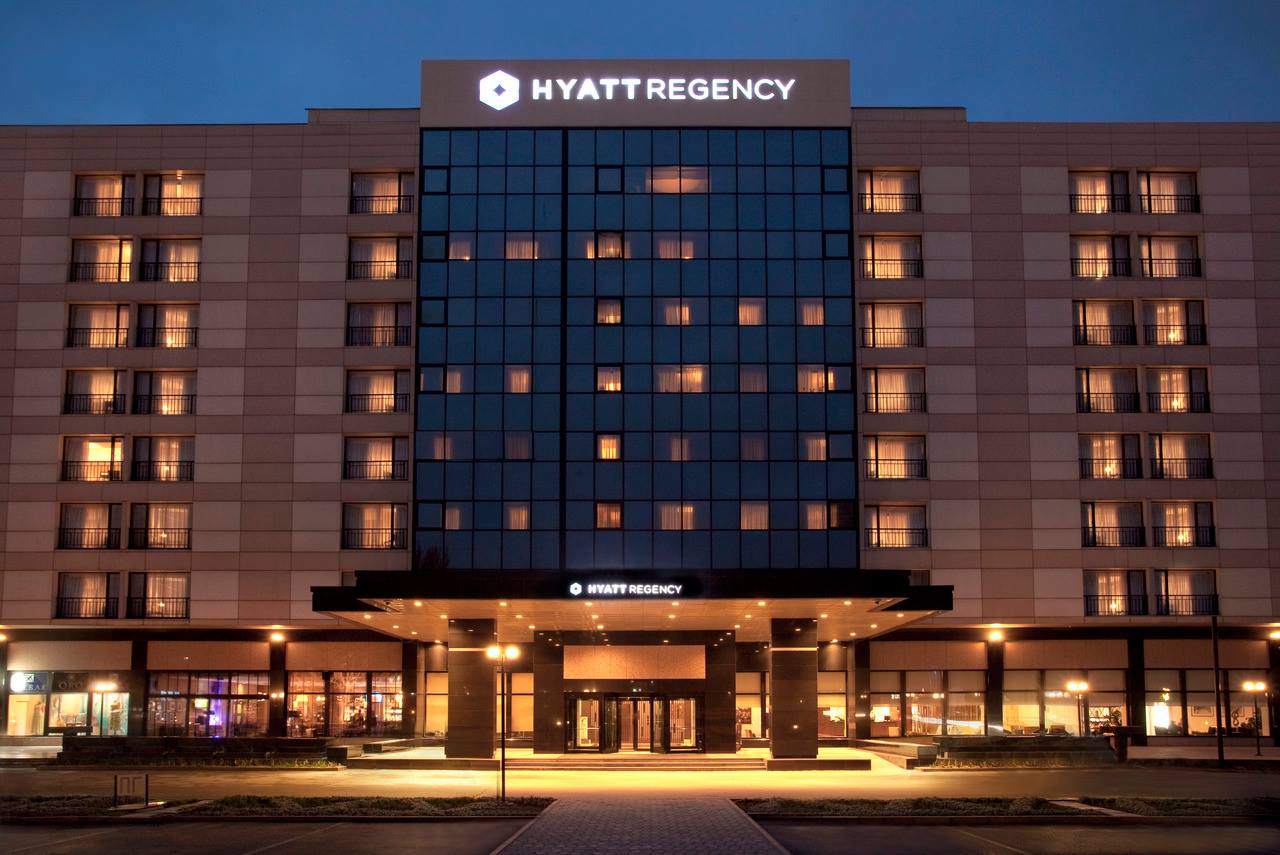 The Hotel Hyatt-Regency Bishkek hosts many private events and conferences. Among its facilities are a the Crostini Restaurant, the Breeze, Opera Lounge and the Bar@191. The Hyatt Regency Bishkek is a luxury 5 star hotel in Bishkek center for business or leisure. The Hyatt Regency Bishkek was the first five star hotel in Bishkek and [...]
Address of the venue
Hyatt-Regency Bishkek Bishkek
Hyatt-Regency Bishkek
Abdrakhmanov St., 191
Bishkek
, ,
Kyrgyzstan
Geo-Coordinates of the venue Hyatt-Regency Bishkek Bishkek